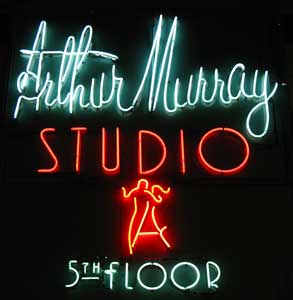 Arthur Murray Dance Studio
Suite 511-929 Granville Street
Vancouver BC

Arthur Murray, Biography
From Wikipedia, the free encyclopedia
Retrievevd March 9, 2010
Arthur Murray (April 4, 1895 – March 3, 1991) was a dance instructor and businessman, whose name is most often associated with the dance studio chain that bears his name.
Pupils of Murray have included Eleanor Roosevelt, the Duke of Windsor, John D. Rockefeller Jr., Cornelius Vanderbilt Whitney, Barbara Hutton, Elizabeth Arden, Manuel L. Quezon and Jack Dempsey. Instructors have included well-known television evangelist D. James Kennedy.
Early life and start in dance
Arthur Murray was born in Galicia, Austria-Hungary in 1895 as Moses Teichmann. In August 1897, he was brought to America by his mother Sarah on the S.S. Friesland, and landed at Ellis Island. They settled in Ludlow Street, in the Lower East Side of Manhattan with his father, Abraham Teichmann. In 1912 at the age of 17, he began teaching dance at night while working as a draftsman by day. He studied under the popular dance team of Irene and Vernon Castle and went to work for them.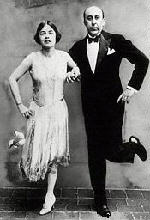 Murray won his first dance contest at the Grand Central Palace, a public dance hall where he later became a part-time dance teacher after graduation from high school. The 1st prize had been a silver cup, but Murray went home without anything to show for his championship dancing. His partner of the evening took it, and it eventually ended up in a pawnshop. This loss made a lasting impression on Murray, and in later years every winner in his dance contests took home a prize.
In between jobs as a dance instructor, Murray worked as a draftsman at the Brooklyn Navy Yard and as a reporter at the New Haven Register.
He soon began teaching ballroom dancing to the residents of Boston, Massachusetts at the Devereaux Mansion, before moving to Asheville, North Carolina. At the outbreak of World War I, under pressure of the anti-German feeling prevalent in the U.S., Teichmann changed his name to make it sound less German.
In 1919 he began studying business administration at Georgia Tech, and he taught ballroom dancing in Atlanta at the Georgian Terrace Hotel. In 1920, Murray organized the world's first "radio dance"; a band on the Georgia Tech campus played "Ramblin' Wreck from Georgia Tech" and other songs, which were broadcast to a group of about 150 dancers (mostly Tech students) situated atop the roof of the Capital City Club in downtown Atlanta.
Murray was inspired by a casual remark made by William Jennings Bryan one evening at the hotel: "... You know, I have a fine idea on how you can collect your money. Just teach 'em with the left foot and don't tell 'em what to do with the right foot until they pay up!"
Murray thought about what Bryan had said and came up with the brilliant idea of teaching simple dance steps with footprint diagrams and doing it by mail. Within a couple of years, over 500,000 dance courses were sold mail order.
On April 24, 1925, Murray married his famous dance partner, Kathryn, whom he had met at a radio station in New Jersey. She was in the audience while he was broadcasting a dance lesson.
After their marriage, the mail-order business became less popular and the Murrays opened up a dance school offering personal instruction. Their business began to prosper, especially in 1938 and 1939 when Arthur picked 2 little-known dances, the "Lambeth Walk" and "The Big Apple", and turned them into dance crazes. They were taught at large hotel chains throughout the country, and the name "Arthur Murray" became a household word.
There are now hundreds of Arthur Murray studios all over the world, with specially trained instructors, making Arthur Murray the most successful dance instructor in history.
The start of Arthur Murray Studios
His first business was selling dance lessons by mail, using a kinetoscope. Though the idea was successful, he had problems with the business, which failed. His second business was drawing and selling "footprints" (an unusual use of drafting skills) which prospective dancers could place on the floor and follow to learn how to dance. This mail-order business remained successful. His third business, launched in 1925, involved selling branded dance lessons through franchising. He trained dance instructors for the Statler Hotel chain, who then went to various hotels and gave lessons; Murray kept some of the profits from each franchise.
This business was expanded more widely in 1938, when an Arthur Murray dance studio franchise was opened in Minneapolis, Minnesota. Others followed. His slogan was: "If you can walk, we teach you how to dance", and the company guaranteed that the pupils learn to dance in ten lessons.
After World War II, Murray's business grew further with the rise of interest in Latin dance, and he regularly taught and broadcast in Cuba in the 1950s. Murray went on television with a dance program hosted by his wife Kathryn Murray, The Arthur Murray Party, which ran from 1950 to 1960, on CBS, NBC, DuMont, ABC, and then back to CBS. Among the Arthur Murray dance instructors in the early 1950s was future television evangelist D. James Kennedy, who won first prize in a nationwide dance contest.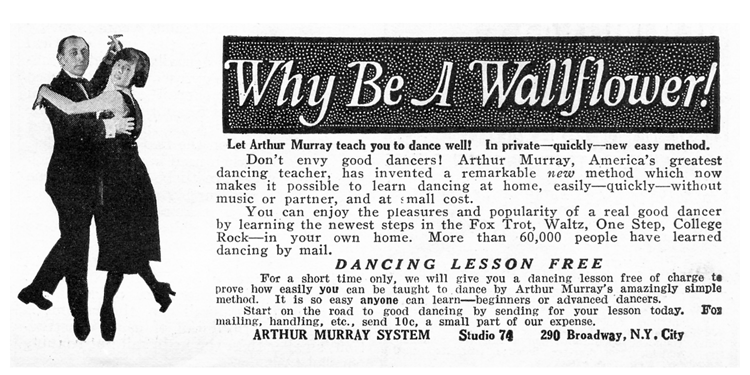 The Murrays retired in 1964 although they continued to be active for some time, even appearing as guests on the Dance Fever disco show in the late 1970s. By then, there were more than 3,560 dance studios bearing his name. In 2007, about 220 Arthur Murray Studios remained in operation. Arthur Murray Dance Studios claims to be the second-oldest franchised company (the first, A&W Restaurants, began in 1919).