Classic movie fan turns into screen saver
Restoration of Park Theatre a labour of love
By Monte Stewart
Business Edge July 15, 2007

The Park Theatre in Vancouver has come back to life after receiving a $300,000 heart transplant.
The landmark movie house at 18th Avenue and Cambie Street on Vancouver's westside has reopened after a two-month hiatus and change in ownership.
The Park's brownstone exterior looks the same as when it opened in 1941. Its interior looks quite different.
"(Former owner) Famous Players decided to take everything out and not sell anything in the theatre," says current owner Leonard Schein. "When I received possession of the theatre in April from the landlord, it was completely gutted.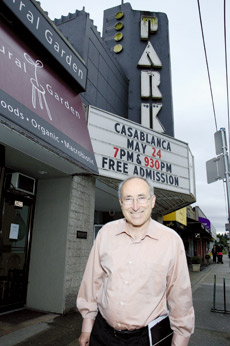 Leonard Schein has reason to smile as the renovated Park Theatre welcomes back movie-goers
photo: Wayne Chose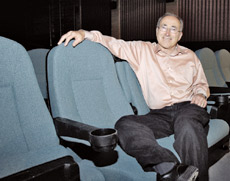 Park Theatre owner Leonard Schein demonstrates the theatre's new seats, which feature a lift-up armrest that turns a double seat into a loveseat for couples to watch the main attraction.
photo: Wayne Chose
"There was no screen, no curtains, light fixtures - everything other than the toilet and sink was taken out. So I decided, since I had a shell to work with, we might as well make it very nice, because we have to be competing with the Paramount and other new theatres."
The revamped interior includes 504 high-backed teal-coloured seats, down from the former 640. When any middle armrest is lifted, two seats become one loveseat, so moviegoers can cuddle with their mates or dates.
The seat rows have been staggered to ensure nobody's head gets in the way as other viewers read subtitles at the bottom of the new 18x36-ft. screen.
Simply put, old is new again at the Park. Schein resumes his role at the helm of the theatre that he owned and operated between 1990 and 2001 while his company, Festival Cinemas Ltd. - which he owns with his wife Barbara Small, a long-time Vancouver Folk Festival board member - is once again the supporting organization.
He is banking that movie buffs will remember previous happy experiences at the Park, such as having their first kiss or watching hits such as E.T. or Lawrence of Arabia, and will feel more comfortable laughing and crying with 400 or 500 new-found friends rather than watching on their DVD player at home.
"It's been here since 1941, so many people had their first smooch here or saw their first film here ... A lot of people have memories of it," says Schein.
He also believes many area residents will buy into the concept of a neighbourhood theatre, to which they can walk or ride their bikes in summer.
Schein also plans to utilize the services of local businesses and, possibly, an organization that sources supplies - notably paper products - from organizations on the Downtown East Side.
"(The Park) means a lot to the Cambie business area, the Cambie Village, as some of them call it, because the Park brings over 2,000 people a week to the neighbourhood. A lot of those people then shop in surrounding restaurants and bookstores ... So it's a big economic driver."
Schein, the founder of the Vancouver International Film Festival, entered the movie business in 1978.
He sold the Park to a partnership of Alliance Atlantis Communications and Famous Players, and also shed the Varsity Theatre, Starlight Cinema, Ridge Theatre, Fifth Avenue Cinema, the Vancouver East Cinema, Banker's Hall in Calgary and Cumberland 4 in Toronto, along with his film-distribution company.
He agreed to lease the Park again in March - the same month that it closed - after getting calls from its landlord and nearby business owners and residents.
"I wasn't ever planning to get back into the theatre business when I sold my theatres," says Schein, "I've been involved with the Canadian Cancer Society and Doctors Without Borders (and) various business-improvement areas of Vancouver."
(He also co-founded the group Friends of Larry Campbell, which likely will form the base of the Vancouver mayor's new political party.)
Brad Busby, who previously worked for Schein at his other theatres and now serves as the Park's custodian, co-ordinated construction work performed by various sub-contractors.
Vancouver architect Elizabeth MacKenzie, who usually specializes in home design and teaches at the University of B.C. school of architecture, re-designed the interior. It was her first foray into into theatre renovation.
In addition to the renovations, Schein hopes discounts for students, seniors and children, matinees, and special times for parents and babies will appeal to patrons.
Choosing the right flick will be the key to putting bums in those new seats. Unlike most competitors, Schein can only show one movie at a time.
"(Single-screen theatres) don't make economic sense," says Schein. "No one would build a single-screen today - anywhere."
Then why did he invest 300 grand in the Park?
"Although you wouldn't build a new one, I think the Park's got a wonderful location," says Schein. "Obviously, we'd do way better if we had more than one screen. I have a real love for the Park, so money isn't my main motivation. It's mainly to serve the community, show good movies and be able to do benefits for various non-profit groups."
Schein says he always made money with the Park before - and has eight years to make it a success again.
He has signed a five-year lease and five-year option, which will terminate in the eighth year - only if the undisclosed "overseas" landlord wants to demolish the building.
But that decision is a long way off.
Until then, he's banking on large crowds flocking to see arts and specialty films, including many Canadian-produced projects.
"Obviously, we're not going to have Star Wars - which everybody wants to see - but we will have other movies that will be of good quality," says Schein.
In its first days back in business, the Park showed the British-produced feature film Ladies in Lavender, Vancouver-produced documentary Hardwood (about the life of former Harlem Globetrotter and long-time city resident Mel Davis, who founded the Kitsilano Youth Basketball League) and the U.S.-produced documentary Standing in the Shadows of Motown, about an unheralded Detroit-based backup band, the Funk Brothers, which played anonymously on many No. 1 hits.
The basketball and music flicks were part of a double-feature benefit May 26 for the Vancouver Folk Festival.
The Park reopened May 24 with two free showings of Casablanca, the 1942 classic starring Humphrey Bogart and Ingrid Bergman.
And if Schein has his way, patrons will continue to offer a Bogey-esque refrain ...
Play it again, Leonard.