The Dayton Legend – Dayton Boots Est. 1946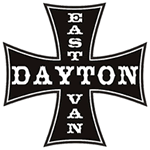 At Dayton, we're proud to say that we're Canadian owned and operated. We're proud of the fact that after 58 years our handcrafted boots are still being made in our factory at 2250 East Hastings Street in Vancouver, British Columbia. We're proud of our roots deep in the heart of "East Van". And even as the Dayton Legend grows and demand for Dayton Boots spreads around the world, we will always remain the best boots that are "Made in Canada".
Whether Dayton boots end up on the feet of a logger or a lineman, a biker or a rock star, a soccer mom or a super-model, every pair is made with the same attention to detail as they have been for nearly six decades. Every pair of Daytons is made with the same exacting care and attention to detail that established Dayton as the industry standard more than half a century ago.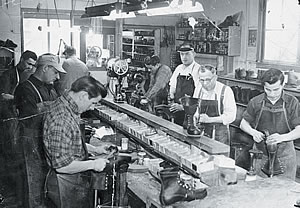 Dayton uses two types of footwear construction -- Nailed Construction is an old-style, hand-nailed, heavy boot and Goodyear Welt Construction is a Stitch-Down/Leather Welt style of manufacturing for lighter weight Boots. The difference is in the details.
As the saying goes, once you've worn Daytons, you can never go back. It's Daytons or nothing. No detail is overlooked, from selecting the best full-grained premium grade hides available to using rust proof brass nails and stainless steel fittings and the strongest Irish linen stitching on the market. All Dayton Boots have non-corrosive heavy steel shanks and full leather insoles for superior foot support, comfort and durability.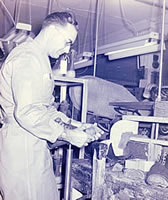 'Comfort, Quality and Durability' are built into every pair of hand-made Daytons. Each pair is made using the highest quality materials, with careful inspection and quality control at every stage of construction. That's why Daytons have a reputation for being the best-built boots in the world.
In the beginning, the Dayton Shoe Co. was nothing more than a rather unusual 'hobby' to C.H. (Charlie) Wohlford. Wohlford, a man-about-town and club manager at The Lumberrnan's Social Club at 64 East Hastings, was well known to BC loggers because he had worked for years as a troubleshooter for the Holt Caterpillar Tractor Company up and down the logging camps of the Pacific Northwest.
During the Second World War loggers were having difficulty getting their boots properly repaired, something they often complained about while enjoying Charlie's hospitality at the Lumberman's Social Club. At a bull session with a few loggers, Charlie said he would fix all of the loggers' boots. After that fateful evening, when Charlie wasn't pouring whiskey, he was tinkered with the logging boots of his patrons. The biggest complaints were that the caulks were kicking out and that the boots weren't water-resistant enough. Charlie repaired the boots himself, driving new caulks into the soles and experimenting with a veritable witch's brew of oils and waxes in an effort to make the boots more water-resistant. Later, when the loggers came back into town, they claimed that the boots that Charlie repaired were holding up much better than when the boots were brand new! And in the process Charlie came up with the proprietary recipe for OK Oil Watertight Compound that Dayton still uses to this day.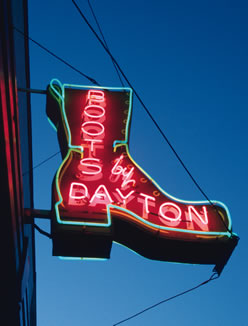 That started it. The loggers kept pestering Wohlford to make them a better logging boot. "Make us some better boots, Charlie!" One evening, in the back room of the Lumberman's Social Club, a group of loggers, accompanied by a case of whiskey, finally persuaded Charlie to make boots for them. But first the boots had to have a name. They decided that they couldn't call them 'Wohlford Boots' because the name was too hard to pronounce, especially after a few drinks. But everyone could say 'Day', as in 'Good Day', and that fateful evening the "Dayton" brand name was born.
In the winter of 1946 the Dayton Shoe Co. started making boots. Working at the club and trying to get the factory started began to take its toll on Charlie's health, so his son Wayne Wohlford was asked to join the firm in March 1947 as the General Manager. Young Wohlford rolled up his sleeves and went to work. He had to learn the footwear business from the ground up. Coming up with a few ideas of his own that Wayne learned from a stint with the Boeing Aircraft Company, the factory was enlarged and production set up.
The first Dayton Logger Boots, the Dayton "64" hit the market in May of 1947 and were an immediate success. Charlie always claimed that 64 was his favorite number, no doubt in part because of his fond memories associated with fixing the logging boots of his old patrons at 64 East Hastings. Within no time at all, Daytons became known as "the Logger's choice". Dayton soon became the brand name for boots and the industry standard for loggers in the woods, men on tough construction and utility jobs, rough-necks in the oil patch, on the docks with longshoreman, as well as with both fire and police forces - anywhere a rugged, durable, comfortable boot was required.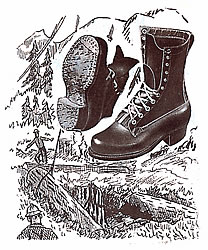 It was the policy of Dayton Boots and Charlie Wohlford to use the best of everything. The best number one leathers available, the best imported boot caulks, brass nails, etc. "Buy the best materials, make it with skilled shoemakers and you will have a first class product", said Charlie. Wohlford insisted on the highest standards of quality. And Charlie was never satisfied to rest on his laurels. He continually searched for ways and innovations to make Dayton boots better, regardless of the cost. Dayton has carried through this philosophy to the present day.
The company continued to expand and moved into the present factory in 1949. Additional styles were regularly added to the Dayton line during the fifties and sixties, including Daytons famous 'Western Boots'. In the seventies, Dayton purchased the rights to manufacture the Pierre Paris & Sons (established in 1907) and Leckie Boots (established in 1852) lines, two former rival boot manufacturers.
In the early 1960's, Dayton added the Goodyear welt method of boot construction to its already famous hand-nailed line of products. This process allowed Dayton to diversify into Western, Service and lighter footwear that still demonstrated Dayton's high standard of quality and durability.
The first pairs of Dayton Western boots appeared in 1962. That year, Charles 'Chunky' Woodward, scion to the Woodward's store fortune and owner of one of North America's largest cattle ranches asked Dayton to create a more comfortable and durable boot for his cowboys. Dayton's Western boots were the first to eliminate the inside seam and feature outside seams only, to reduce chafing on the legs of the riders and working cowhands who wore the boots. It didn't take long for motorcyclists to recognize the wisdom of this innovation. When Dayton customers started attaching old tire treads to the bottoms of their boots to create a great motorcycle boot, Dayton responded by manufacturing the Black Beauty double-soled motorcycle boot.
Coinciding with the advent of better rubber soles, Dayton designed and commenced production of the "Black Beauty" double-soled motorcycle boot in 1965. This boot continues to be one of Dayton's most popular boot lines. The "Black Beauty" is now revered by bikers everywhere and is much sought after in Japan and Europe, which is a testament to the boot's international appeal. In 1978, Dayton introduced "The Classic", a double-soled nailed-construction engineer style boot which has since become a favorite with motorcyclists all over the world.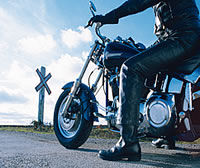 During the eighties and nineties, Dayton aggressively expanded its "Motorcycle Boot" line and responded to the demands of its customers by the addition of ladies sizes. The tremendous response to Dayton's motorcycle boots led the company to begin participating in motorcycle trade shows and rallies throughout North America. Stops on the tour included Daytona Bike Week, the Sturgis Rally and Races (where Dayton has been a fixture since 1990), The Laughlin River Run and Reno Street Vibrations, just to name a few.
Dayton wearers are among the world's most dedicated customers, the boots inspiring a cult-like loyalty. People have been married in their Daytons and buried in their Daytons. Others have bequeathed their boots back to the company in their wills. Fan mail sent from every corner of the globe piles up at the factory, many of them testimonials to the toughness and durability of the owner's Daytons. A biker from West Virginia wrote "I wore my Daytons on a 12,000 mile ride and they're still in great shape. The other guys were pouring water out of their boots while my feet satyed dry." An Alberta customer wrote to thank the staff for rebuilding his 20 year-old Daytons, and to say how sorry he was that he'd never get another chance to buy a new pair; he's in his sixties and he expects to be buried in the pair he bought in his forties. Other stories tell glowing reports of the boots' ability to withstand nearly unbelievable punishment in all manner of accidents and emerge nearly unscathed, their owner's feet safe and sound inside.
By the 1990's, the reputation of Vancouver's very own homegrown boots had spread far and wide. They were showcased at Vancouver's hippest boutiques and seen on the feet of club-goers and trendsetters throughout the city. Dayton boots have been embraced by the fashion industry, the music world and in BC's growing film and television industry. On film sets around town, you can find Dayton's adorning the feet of both movie crews and movie stars, and Dayton Boots in front of and behind the camera.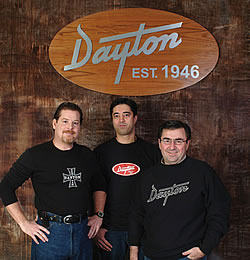 In 2001 Dayton celebrated its 55th Anniversary by continuing to produce timeless, classic, high quality boots for men and women. Dayton currently manufactures some 50 different styles of shoes and boots for an ever-expanding market divided among five sectors: motorcycle boots, fashion styles, western boots, work boots and service boots. Dayton plans to unveil several new styles of shoes and boots in the coming year as well as an exciting line of Dayton-branded apparel. When in Vancouver, you can visit the Dayton showroom at 2250 East Hastings Street and be fitted into a new pair of boots with the sounds of hammers and machines only a few feet away. It's nice to know that at Dayton, some things - like Quality and Tradition - never change..
Dayton Boots are made today with the same attention to detail as they were six decades ago. Every pair of Dayton Boots is crafted by hand with exacting care and precision through up to 220 individual production steps. Dayton's team of skilled shoemakers includes men and women who have been at the company for more than 30 years -- still working on some of the same equipment that was in use when the factory opened in 1950. The company continues to carry on the tradition of making sure the company's motto of 'Comfort, Quality and Durability' lives on in every pair.
Dayton, surprising people since 1946.
(Source: From the old Dayton's website)