http://www.historicplaces.ca/

Description of Historic Place
The Vogue Theatre is an Art Deco-style theatre built for live and cinematic performances in 1940-1. It is located on Granville Street in the heart of Vancouver's "Theatre Row". The formal recognition consists of the building on its legal property at the time of designation.

Heritage Value
The Vogue Theatre was designated a national historic site in 1993 because:
-it is a particularly well-preserved theatre of the Moderne style in Canadian architecture;
-it is a rare example, by virtue of its scale, age and design, of a theatre that accommodated both cinema and live performance;
-the Vogue illustrates the major shift to integration of sound amplification and modulated lighting into theatre design.

The Vogue's auditorium relies wholly on the fusion of shapes, massing and electrical systems for atmospheric effect. Smooth, curving wall surfaces are not intended solely as aesthetic devices, but also as acoustical enhancers and as backdrops for the subtle hues cast by the modulated lighting system.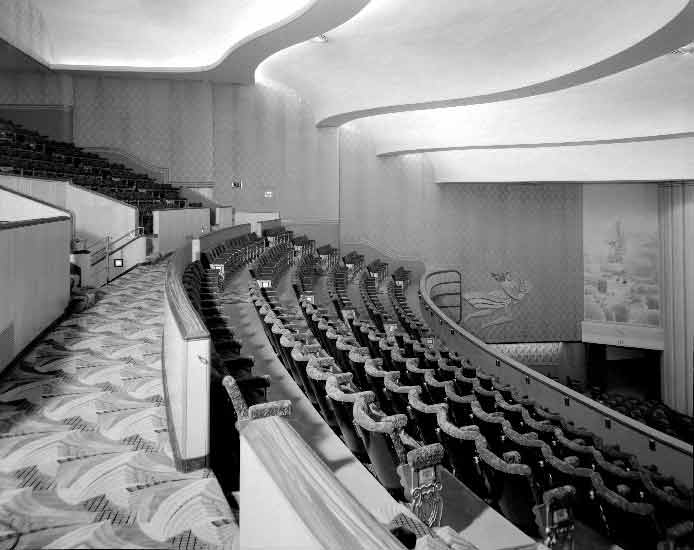 Vogue interior. Vancouver Public Library, VPL16418
Special lighting effects included undersea murals at the sides, which glowed as the lights dimmed, and a dramatically tiered ceiling highlighted by coloured indirect lighting.
Light shows that simulated sunrises and sunsets replaced surface decoration as the principal atmospheric device. In this respect, the Vogue's design heralded a trend in theatre design.


Character-Defining Elements
The key elements that relate to the heritage value of the Vogue Theatre include:
-the Moderne style of its exterior, evident in the crisp, geometrical symmetry of the fašade associated with the classical stream of the style;
-the use of exterior textures and materials consistent with the Moderne style, including textured concrete walls, Vitrilux and terrazzo panels, textured terra cotta piers, wrought-iron screens, and stainless steel mullions;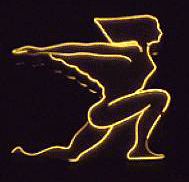 -the existence of a tall sign tower that dominates the facade, outlined in neon and surmounted by a stylized figure of the goddess Diana;
-the commercial arrangement of the fašade, with a recessed theatre entrance and ticket booth flanked by shops on either side;
-the streamlined Moderne design of the interior, evident in the sinuous, sweeping curves of the auditorium, lobby, foyer and staircase, and in the recessed lighting systems in auditorium, foyers and lobby;
-the fluid lines of the auditorium, including the curving, tiered plaster coves of the ceiling; the column-like structures flanking the proscenium, the curved side walls and balcony, and the rounded stairwell corners;
-features that integrate aesthetics with mechanical objectives, including the concealment of the air conditioning system and ducts behind the ceiling coves and proscenium columns, the lighting system, concealed behind the ceiling coves and linked to a 'modulite' control system; and the auditorium's ceiling, formed by a series of plaster coves radiating out from the stage in a series of elliptical arches that concealed mechanical systems and was believed to improve sound;
-auditorium features designed to accommodate live performances, including the stage, loft, and chorus and dressing rooms;
-auditorium features designed for movie viewing, including the projection booth;
-Moderne design features of the lobby, foyer and staircase, including coved ceilings and recessed wall niches that house original neon and incandescent lighting system, and the wood columns flanking the staircases.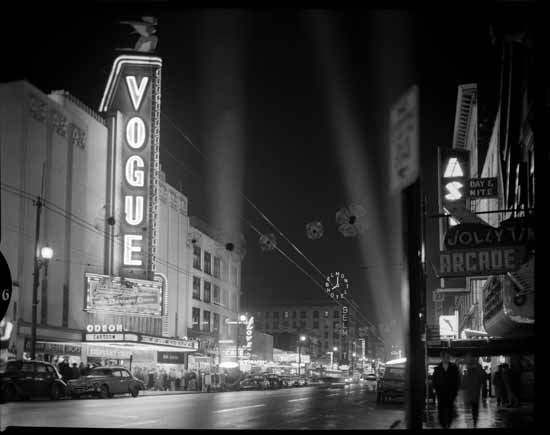 Shabby Vogue Theatre gets a new life
Granville Street venue spruced up by $3-million renovation, offers live performances

By Malcolm Parry, Vancouver Sun February 18, 2010

EVERYTHING ABOUT IT IS APPEALING: So wrote Annie Get Your Gun composer-lyricist Irving Berlin in his show-stopping song, There's No Business Like Show Business. It was certainly appealing to one-time civil litigator Dick Gibbons and the Whistler-based Gibbons Hospitality Group in 2005. That's when they paid $3 million for downtown Granville Street's shabby Vogue theatre. Their plan was to enhance the 1941-built theatre's Art Deco style while redeveloping it as a 1,000-seat supper club like New York's Tao or the Buddha Bar in Paris.
That dream foundered after three years of effort, when the group failed to acquire a liquor primary licence to match the many bars and clubs that surround the Vogue in Vancouver's so-called Entertainment District. What it received was a restricted licence to serve from an hour before to an hour after live performances, but not past midnight. This is in an area where most facilities operate for up to three hours longer.
"The plain message that came to us from the city of Vancouver was that they wanted the Vogue to operate as a live theatre," Gibbons said Tuesday. "So, we said: 'Let's do what they want, and upgrade it beyond anyone's expectations.'"
That entailed a $3-million renovation, of which about $2 million has been spent already. Half went into sound, lighting and high-definition digital-projection systems. A total plumbing upgrade (including doubling washroom capacity) and what Gibbons calls Vancouver's most fuel-efficient boiler cost $400,000. Purpose-woven Art Deco carpeting was installed and earlier fixtures renovated, including a long-painted-over chrome strip above the proscenium arch. Nine dressing rooms were renovated, along with offices for visiting production staff. A bar-equipped green room is nearing completion.
Outside, only minor tasks remain to restore the Vogue's canopy and iconic neon sign. Walls will soon glisten under buff paint.
As work goes on, a half-dozen stage shows have sold out since July, and Gibbons said the annual budget for talent is $1 million. Productions will step up April 13, when the Burn The Floor show goes on for eight performances.
During the Olympics period, footsore folk pay $20 to watch the daylong Canadian Talent Showcase which, under agreement with the CTV network, includes hockey games projected brilliantly on a 42-foot screen.
"We're not getting any handout from the city or government," Gibbons said. "We're going to operate profitably as a business enterprise without taxpayers' money. But we do expect some modest cooperation from the city of Vancouver and the province when it comes to issues like [liquor] licensing."
As for operating profitably, Gibbons has a rule. "We own all our real estate," he said of the group's 500-seat Longhorn Saloon, 330-seat Buffalo Bill's club and 500-seat Tapley's Pub in Whistler. That's where Gibbons and wife Colleen moved in 1994, when son Joey and daughter Erika were ski-racing there. Joey and brother Matthew -- a former 100-point centre with the Chilliwack Chiefs junior hockey team -- later set up the London Tap House chain in London, Hamilton and Toronto, Ont. Including land, those facilities cost $2.5 million, $5 million and $6 million respectively. The group also owns Port Alberni's 50-room Hospitality Inn, which Gibbons Sr. built at age 30.
Still, owning a theatre and playing impresario is a different game entirely. As Irving Berlin also wrote: "Even with a turkey that you know will fold / You may be stranded out in the cold / Still you wouldn't trade it for a sack o' gold / Let's go on with the show."

Supper-club bid for Vogue Theatre fails
Georgia Straight, May 29, 2008
Source URL: http://www.straight.com/article-147506/supperclub-bid-vogue-theatre-fails
A Whistler entrepreneur has expressed dejection over Vancouver city council's recent refusal of his application to open a licensed supper club at the Vogue Theatre.
"It's disappointing, obviously, that we didn't get to create that difference down there that we wanted to create, but I obviously didn't do a good enough job selling that change to them," Joey Gibbons, president of Gibbons Hospitality Group, told the Georgia Straight by phone on May 27. "Change is risky."
NPA councillor Kim Capri introduced a motion at the May 22 city services and budgets committee meeting to uphold a staff recommendation to refuse a liquor licence. The motion passed unanimously.
"The proposal has a lot of merit," Capri told Gibbons. "It is the proposal in the context of the district that is challenging."
The Vogue Theatre, built in 1940, is a national historic site and is A-listed on the city's heritage register. The 1,029 "liquor primary" seats Gibbons requested are almost double the 680 seats held by the previous owner before the building changed hands in January 2006.
According to city chief licence inspector Paul Teichroeb's May 6 memorandum to council's city services and budgets committee, Gibbons's intention was to build a " 'high-end' eating and drinking establishment for older clientele". On March 13, the committee deferred any decision on the Vogue for 60 days, pending further input from the local hospitality industry, heritage advocates, and the city's office of cultural affairs.
Teichroeb factored a lack of support and general uncertainty from these sectors into his decision to recommend that council reject the application at the committee's regular meeting on May 22.
Prior to the vote, council heard an emotional plea from Vogue general manager Gwyn Roberts in support of the application by Gibbons. "For the next four months, there are zero shows [at the Vogue]," Roberts, also general manager of the Penthouse on Seymour Street, said in the chambers. "It is very difficult for me to see the theatre change [to a supper club]. I have shed blood, sweat, and tears there.…But it definitely cannot function without a liquor licence. We cannot keep offering water and pop for $300 a night."
The main concern expressed by council was the fact that Gibbons was looking at doubling the Vogue's seat quota in a controversial liquor-rich area—the Granville entertainment district—that NPA councillor Suzanne Anton told council was "just coming under control".
Gibbons told council he had received a legal opinion, based on the provincial Land Title Act, that a covenant could be placed against the building's land title, giving the city a say should the building change hands.
Council left the covenant issue unexplored by rejecting the application, which left Gibbons blaming his sales pitch.
"In downtown Vancouver, I guess, they see these liquor seats as problems as opposed to opportunities," he said. "When you've got that outlook on liquor seats as being problems, why would you want to add more problems? It was up to me to figure out how to let these people know that the liquor seats that I have—and have had within our company for 30 years-haven't created problems. And I failed."
Gibbons said he has not made a final decision yet on his next move, but added: "I will be back, for sure."