www.historicplaces.ca
Canadian National Railways / VIA Rail Station
1150 Station Street, Vancouver, British Columbia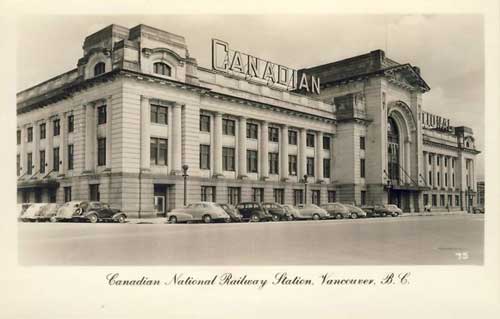 Statement of Significance
Description of Historic Place
The Canadian National Railways / VIA Rail Station (CNR) in Vancouver is a large, Beaux-Arts-style railway station, built in 1917. It is located on reclaimed land in the False Creek area of the city of Vancouver. The formal recognition is confined to the railway station building itself.
Heritage Value
The Vancouver Canadian National Railways (CNR) Station represents the end of the turn-of-the-century period of railway prosperity which culminated in the acquisition of much of Canada's rail service by the government-owned CNR. Designed by the Canadian Northern Railway (CNoR) to serve as the western terminus of its transcontinental route, the Vancouver station opened as a CNR station.
The Vancouver station is a handsome illustration of Beaux-Arts architectural principles, retaining both the exterior features and interior detailing typical of the style.
The Vancouver station retains the general layout and major components of its site. It serves as a prominent landmark in the urban fabric of Vancouver.
Source: Heritage Character Statement, Canadian National Railways/VIA Rail Station, 1150 Station Street, Vancouver, British Columbia, January 1992.
Image: Photographer unkown.postcard circa 1945, public domain.

Character-Defining Elements
Character-defining elements of the Canadian National Railways / VIA Rail Station in Vancouver include but are not limited to:
-its Beaux-Arts style, as expressed on the exterior in its monumentality, its symmetricality, its axial plan, its use of light-coloured stone, and the classicism apparent in its design, massing and detail;
-its plan, in which the various functions of the building are expressed in its main components and in the planned relationships between them, including the general waiting room, the service and office areas, and the butterfly-sheds;
-its exterior massing, consisting of a three-storey block with a pronounced central entrance bay and projecting corner pavilions;
-its symmetrical and deeply modeled front façade, characteristic of early Beaux-Arts buildings;
-features typical of Beaux-Arts design, including the monumental arch and pediment sheltering the main entrance, the tripartite vertical composition of the façade, engaged Doric columns, engaged pilasters, bracketed cornice, raised parapet, and the exaggerated window hoods and keystones in the corner pavilions;
-its exterior materials, consisting of smooth-finished stone, rusticated with square, recessed joints;
-the slight projection and darker stone used on the ground floor level;
-suspended canopies over the entrances;
-the neon 'PACIFIC CENTRAL' sign mounted over the parapet
-the arrangement and design of its fenestration, in keeping with the tripartite façade, including lower windows in the base, larger window units set between engaged columns and pilasters in the upper storeys, and the use of paired, triple- and double-hung windows;
-its Beaux-Arts style, as expressed on the interior in its elegant design and classical detailing.
Source: www.historicplaces.ca
Location of Supporting Documentation
National Historic Sites Directorate, Canadian Inventory of Historic Building Documentation Centre, 5th Floor, Room 525, 25 Eddy Street, Hull, Quebec