Know your club: Pat's Pub
403 E Hastings St.

By Mike Usinger
The Georgia Straight
December 13, 2007
These days, Pat's Pub is where you'll find the likes of alt-country legend Alejandro Escovedo, alt-noise upstarts the Ponys, and local indie gems Lightning Dust. Flip back to the early 1900s, and the bar was the place to be for those who enjoyed Scandinavian-flavoured punch-ups.
"It used to be a big bar for all the Swedish dockworkers and fishermen," says Daryl Nelson, general manager of Pat's Pub. "Along with the Finns, that's where they used to hang out."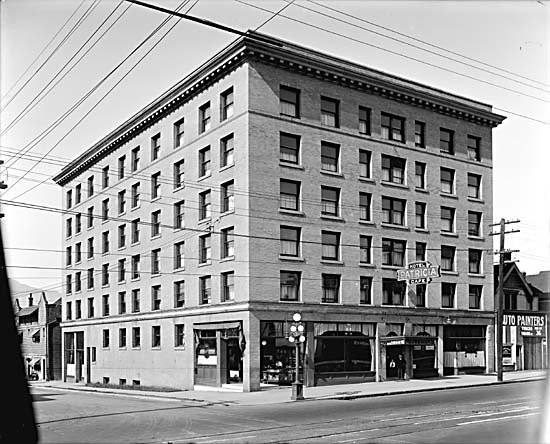 Actually, they did more than that. Chicago jazz musician Ada "Bricktop" Smith recalled playing the bar in her 1983 autobiography Bricktop . Back then, Pat's Pub was known as the Patricia Café, and it (along with the Patricia Hotel) was owned by an entrepreneur named Will Bowman.
Photo: City of Vancouver Arcives, cva99-187
"Bowman's biggest customers–and I do mean big," wrote Smith, "were the Swedish lumberjacks who came into Vancouver on their time off. Tall, strapping fellows, they could make a bottle of whisky disappear in no time. Pretty soon, they'd be drunk and ready to fight."
One of the most famous brawls took place on Christmas Eve in 1919. Bricktop ended up with a broken leg.
Along with the hotel, the Patricia Café opened in 1914.
"Where the parking lot is today, that used to be a stable," Nelson recalls.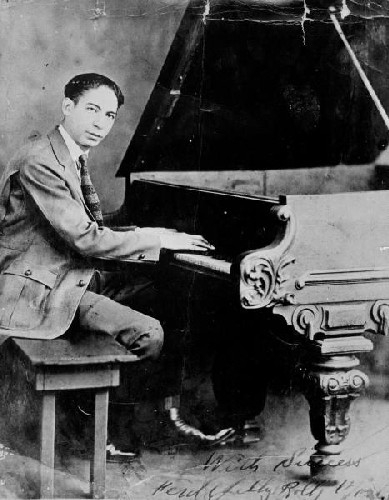 By the late '20s, the hotel was home to Ferdinand "Jelly Roll" Morton, who is now remembered as one of the giants of American jazz.
"He used to play the bar quite a bit," Nelson says. "Back then the Patricia was a jazz café."
After World War II, the Patricia slowly became the neighbourhood haunt for those who liked their beer served cheap and in pint glasses.
"For a number of years, it was just a regular old neighbourhood draft bar," Nelson reveals. "From what I read, that probably started in the '50s."
Seven years ago, the Patricia Café–which at some point became known as Pat's Pub–began hosting live music.
"When I started here, as a waiter, there was a lot of longshoremen–a serious after-work crowd from the area," Nelson remembers. "It was a really busy bar, almost every night of the week. But as the crowd got older, I guess it did less drinking after work, so we decided to bring in a younger crowd."
Today, Pat's is gaining ground as one of the best rooms in the city for catching underground talent, both local and from out of town. And although the rough-and-tumble Scandinavians from yesteryear would probably not be impressed, you're now more likely to find brewed-on-the-premises beer on the tables than empty bottles of whisky.
"We're trying to provide a clean, fun space," Nelson says.
Photo: Leslie Sheraton, PNE parade 1960, CVA 2008-022.127.
Postcard circa 1958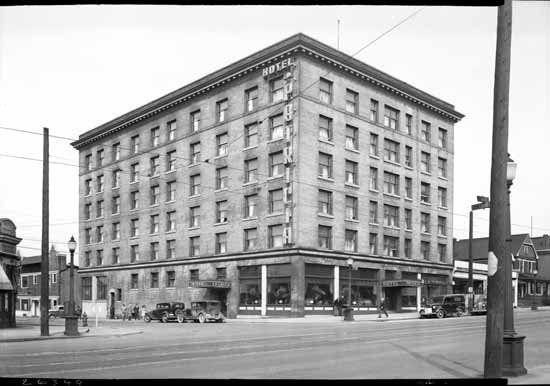 Photo: 1945 vpl archives