Feb 22 1997
In 1928, a baker named Frank Hunter walked across the street to have lunch. Munching on his hamburger, he had an epiphany.
Hunter was selling buns to the restaurant for four cents a dozen. The restaurant took the bun, added a slab of ground beef with trimmings and sold it for 15 cents - a substantially higher profit.
Hunter decided he was in the wrong business, so he bought the restaurant. He renamed it Aristocratic Hamburgers and designed a snazzy logo featuring Ritsy, a dapper little man in top hat, tuxedo and monocle.
The Aristocratic was a huge success, becoming Vancouver's premier restaurant chain from the 30s to the 60s, with up to a dozen locations. But times changed, and the once-mighty Aristocratic chain dwindled to one location, at Broadway and Granville.
On Sunday, Ritsy will serve up his last burger and fries. The Broadway and Granville site is being redeveloped and the Aristocratic is closing.
For long -time customers such as Nigel Clifton, it's a sad day. The Aristocratic may have faded in latter years, but it had a certain je ne sais quoi you don't get in sushi bars.
"What I like about this place is that you could sit and look out the window as you sipped your coffee," says Clifton, sitting in his favorite booth. "You see a lot of accidents on this corner. Every now and then the bank gets robbed. During the big snowstorm (just after Christmas) we crammed in here and watched people ski down the hill and buses get stuck."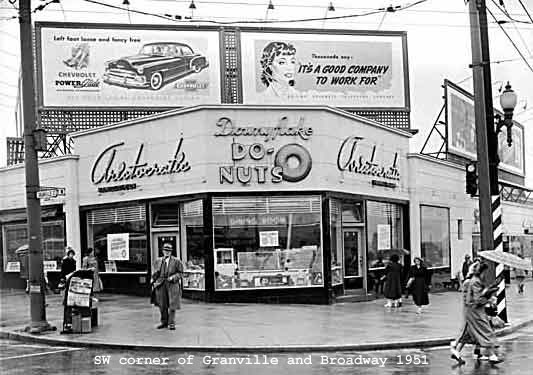 Photo: Artray. VPL special collections, 81674.
Clifton has been going to the Aristocratic for 30 years: He fondly recalls the good old days in his youth when "a great big waitress with tattoos" served java at a horseshoe-shaped counter. "If she liked you she'd take a drag off your cigarette while she was running around serving coffee."
Even if they've never eaten there, generations of Vancouverites know the the Aristocratic's distinctive neon sign boasting "courteous service, quality food, all over town."
Hank Oliver bought into the Aristocratic in the '50s and erected the sign in the early 1960s. It's now regarded as one of the premier neon signs in the city, but Oliver says it pales beside the more elaborate flashing signs of Vancouver's neon golden age of the 1950s.
"Our big deal was the little man, the little Ritsy, with lights going around and a little arm pointing to the restaurant" he recalls. "It flicked on and off, the arm going up and down, up and down."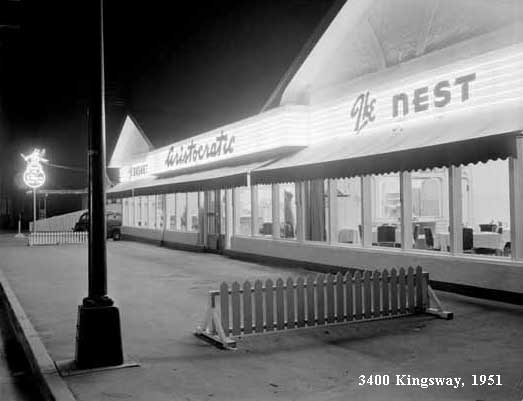 Photo: Artray, VPL special collections, 82363F.
The first Aristocratic was a drive-in at Kingsway and Fraser, near Bushfield's Feed Store and the Roller Palace Skating Rink. The Broadway and Granville location opened in 1938, the fifth link in a chain of modest "family" eateries.
""All over town' was our motto, says Oliver, now 76. "We were on the very best corners in town, no doubt about it."
Oliver says Hunter sold out in 1947, and the chain went bankrupt in 1959: "They were in debt about $800,000. That was horrendous in those days. Nobody could believe it."
Oliver had been brought in to "straighten things out" as a consultant in 1952 and '56, and was given the task of selling off the bankrupt company's assets. He wound up buying the name and five of the restaurants for himself and did a thriving business,even though there was plenty of competition, especially at Granville and Smithe. "I'll tel you something, from the Capitol Theatre to Georgia Street, which is a block and a quarter, there were 10 bloody restaurants. Ten restaurants. There was Scott's, there was the Sky Diner, which was owned by White Lunch, Al Gold's Fish and Oyster Bar, Love's Cafe, the Devon Cafe and the Peter Pan Cafe.
"There were seven theatres in two blocks, and everybody got out at the same time," he continues. "There was a show that came out at 9 pm, and one that got out at 11:30 pm. Do you know that in spite of all of those restaurants, we had line up to get in after every show? That's the kind of business we had. You don't see that any more."
Photo: Artray,1951. VPL special collections, 81674E.

At one point, Oliver owned 12 restaurants and three local chains - the Aristocratic, Silk Hats Self-Serve Restaurants and Oliver's. But over the years he sold them off one by one and, in 1983, sold off the last Aristocratic. He still owns the Aristocratic name, but allowed the succeeding owners to keep the sign up.
Unfortunately' after he sold out, a pair of beautiful blue neon Aristocratic signs in elegant script dating from 1938 were accidentally removed and wrecked. "That was a shame," he says. "That script neon blown glass would never happen again."
The remaining sign was to be trashed when the building comes down next month (march1997). But quick action by Joan Sidel of the Vancouver Museum resulted in Neon Products donating the sign to the museum.