You need earplugs to walk around downtown Vancouver these days, and a construction helmet. The crash-boom-bang of construction for new high-rise towers and the Olympic SkyTrain line is omnipresent: Whole sections of town are being torn down and rebuilt, seemingly overnight.
But there is one well-known local building that has managed to survive the boom. The Penthouse Cabaret has been an institution at 1019 Seymour since it opened in 1947. It's always been somewhat infamous -- in the old days, it operated as an after-hours "bottle club" where people drank illegally. In more recent times, it's operated as one of Vancouver's premier strip clubs.
But its famous neon sign and wonderfully sleazy interior decor have made it something of a local icon, even for people who've never set foot inside the doors.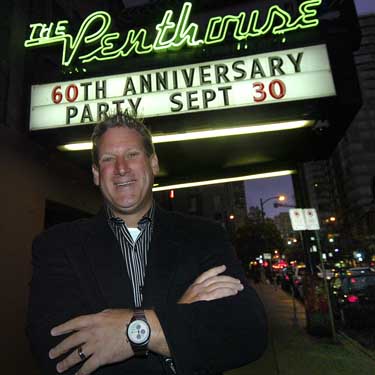 Danny Filippone outside the Penthouse on Seymour.
Photo: Steve Bosch/Vancouver Sun
This Sunday, the club will mark its 60th anniversary with a special show. There will be live music from Jessica Beach, and dancing from Candy, an all-female troupe that "incorporates Broadway, jazz, pop, rock and a touch of burlesque."
For history buffs, Danny Filippone will be on hand to tell some stories. And there are a few stories to tell.
The Filippone family has owned the club since Day 1. Danny's grandfather moved his family to a house at 1033 Seymour in 1933, and then the family acquired a garage next door.
Danny's late uncle Joe was an industrious fellow, and with Danny's father Ross started up several businesses, including a taxi company and a boxing club. Joe lived upstairs over the garage turned-boxing-club and had big parties, one of which was raided by the cops. The Vancouver Sun ran a story with the headline "Joe Philliponi's Penthouse Raided," and the name stuck. (Joe Philliponi's name was spelled wrong by an immigration officer when Joe arrived in Canada from Italy.)
The brothers decided to turn Joe's penthouse into an after-hours joint. In 1947 it was virtually impossible to get a licence to sell hard liquor in Vancouver, so people would bring in their own booze in brown bags, then buy mix from the establishment.
The Penthouse used to have spotters on the roof who would press secret buzzers to alert patrons that the cops were about to raid the joint. The customers would hide their bottles in secret drawers under their tables, then pull them out when the cops left. Because it wasn't a legal bar, it didn't have to conform to normal closing times, so it would be open from 11 p.m. 'til 6 a.m., or until everyone went home.
It became a favourite hangout for celebrities who came to town to play clubs like the Palomar (which the family owned for a time), the Cave or the Marco Polo. Frank Sinatra, Bing Crosby, Bob Hope, Gary Cooper, Louis Anmstrong, Frankie Laine, Harry Belafonte, Errol Flynn -- they all dropped by to drink 'til the wee small hours in the VIP room at the back of the top floor.
"Sammy Davis actually played there for one month," says Filippone. "He stayed at the club, because he couldn't afford a hotel."
A couple of years ago, Filippone and his wife were moving a photocopier at 1033 Seymour, the original family home which they still own and use as an office, and noticed a hole in the wall."I put my hand in and there was a chest," he recalls.
"We yanked it out. We thought we were going to find millions of dollars, but it was even better: All these original pictures that uncle Joe and my dad had taken. They were signed by Louis Armstrong, Jersey Joe Walcott, Joe Frazier, Sammy Davis Jr., all the celebrities. We had something like 120 of them."
The old photos will be on display on Sunday, along with photos of some of the burlesque queens Uncle Joe and Ross started importing from Vegas in the '60s. The club finally got a liquor licence in 1965, and the strippers the Penthouse brought in helped introduce a whole other dimension to Vancouver nightlife.
Uncle Joe was shot and killed at the Penthouse in 1983. Danny Filippone started managing the club three years later, in the middle of the exotic dancer boom.
"It went from three or four bars to something like 45 hotels that had strippers," he says. "Now it's gone completely full circle and it's down to three again."
Strippers still ply the stage several days a week, but the Penthouse also has live music and is an in-demand film location (it's the club in CBC's Intelligence). Singer Avril Lavigne recently booked it for a photo shoot.
"In the past six, seven, eight years, we've completely turned it around," says Filippone. "Whether it's because of the Granville Mall being so busy or the fact that all the other strip bars have closed, the Penthouse for some reason remains one of the busiest bars downtown. Not just strip bars, bars."
A homeowner on Richards Street recently sold her two lots for $6 million to a developer, which means the Penthouse property is probably worth $10 million or more.
Filippone confirms that he's had many offers to sell, but says his family has no intention of doing so, at least in the near future.
"It's not just the money," he says. "We really really have this feeling that the Penthouse is a huge part of our family."