John Mackie, June 21, 2002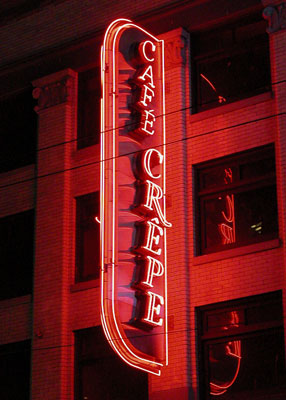 After decades of frowning upon neon signs, the city of Vancouver is now encouraging businesses to bring them back to downtown Granville Street. Today, one of the biggest new neon signs to be erected on Granville in decades will go up between the Orpheum theatre and the Commodore.
The seven-metre high, two-metre wide neon sign is for the Cafe Crepe, a Parisian-style cafe that will be opening in mid-July at 874 Granville. In keeping with the cafe's decor, the red neon letters are done in an art deco style.
"This sign cost a lot of money -- it's far beyond what we would normally do," said Kerry Bonnis, co-owner of Cafe Crepe.
"But we thought it would be a great opportunity for exposure for our [restaurant]. And also it's in keeping with what's going on with the street."
The city changed the sign bylaws three years ago to encourage businesses to use neon on Granville. Essentially, if you go with neon, you can have a much bigger sign.
The city hopes that downtown Granville Street will recapture some of the lustre it had during the 1940s and '50s, when it had so many neon signs it was dubbed "the Great White Way."
In Granville's golden age, stores and restaurants would go to great lengths to try to outdo each other -- the White Lunch restaurant's sign featured a giant neon coffee cup with steam rising out of it and a spinning base/saucer with cooks, waiters, and customers.
The Cafe Crepe sign isn't animated, but it is fairly elaborate. The sign will be in four tiers, with a stainless steel base and three layers of Cafe Crepe lettering, each one slightly smaller than the other. The base and first layer of letters will be silver, the next layer will be burgundy, and the neon on top will be red.
"At night it's going to be really something," said Glen Clark (yes, the former premier), manager of the Pattison Sign Group.
"It'll be really bright. It's what we call con red, for conventional neon. It's the real neon, as opposed to argon. Most coloured neon signs are actually argon gas, which is a blue gas, whereas the conventional neon is red gas."
The sign is part of an extensive restoration of the facade of the old State Hotel, built in 1909 but damaged in a 1975 fire. Bonnis said he is spending "an absurd amount" on the facade and cafe, which will have a marble front, marble floors and cherrywood paneling.
"We're here for the long run," said Bonnis, who also co-owns the Commodore building and the empty lot in the 700-block Granville where a Future Shop and Winners will be opening next spring.
"Our design ethic is that we're building for 300, 400 years, in the grand tradition of the cafes that were built in Europe and South America. We're using the highest quality materials."
Bonnis said neon was a natural fit for the cafe, because it was a staple in the art deco era and works well in Vancouver's many gloomy months.
"A lot of marketing people say signage is your cheapest form of advertising," Bonnis said. "There's a lot of activity going on on the street, with new retailers coming in, nightclubs and restaurants. We want this street to be alive and exciting, and neon is a really great way to achieve that at nighttime. Especially in the winter, when it gets dark at 4:30, five o'clock."
Granville's biggest booster, nightclub owner Blaine Culling, said the sign will be a "spectacular" addition to the street.
"It's projects like that that are going to lead the way, getting some visual energy onGranville street," Culling said. "To me, neon says adventure and fun, a lively space. It also means the area is alive."
Businessman Jim Pattison donated the landmark Orpheum neon sign to the city in the 1970s. He has fond memories of Granville's neon era, and hopes it can be revived.
"When I was growing up, there was more neon on that Granville street than you can believe," said Pattison, who discovered neon's drawing power when he helped design the landmark Bow Mac sign in 1958.
"I'm delighted to hear there's neon coming back into Granville street. That will really do a lot, in my opinion, for that part of town."
In other Granville news, Culling said work should begin soon on a new bar/restaurant called Skybar at the southeast corner of Granville and Smithe, with a projected fall opening. The Luv-a-fair Cabaret also hopes to open its new location in the old Caprice Theatre in September or October.