The Astoria Hotel 769 East Hastings.


The blinking neon hasn't been working properly since 2006 and all the neon was stripped off in fall 2007. There has been some work done on painting the metalwork so let's hope it's being restored. If you have any info on the status of this great sign pls send an email. C.D.

Update May 2008.
Sicon Neon of Richmond has been working on a total restorartion of the neon and have patched and painted the metalwork. It should be finished summer 2008.

Update January 2009.
The sign is finished and looks great.
SOLEfood Urban Farm-Garden Raising!
24 10 2009
Source: http://projectsinplace.wordpress.com/

Projects in Place is gearing up for our latest community build and we're looking for volunteers! SOLEfood, an initiative of United We Can, will see the creation of an urban farm on five vacant lots next to the Astoria Hotel in Vancouver's Downtown East Side.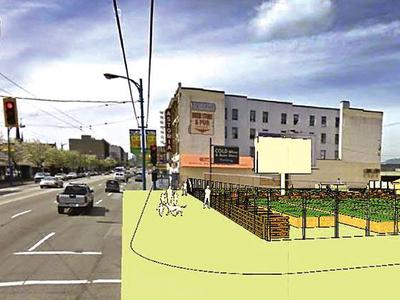 The Farm will transform more than 15,000 square feet of unused asphalt parking space at the corner Hastings and Hawks Ave into a fully functioning farm. Through this project inner city residents will find employment; community kitchens will gain a valuable source of local and organic food; and community members can find a social hub and information source.
Projects In Place, Sharp & Diamond Landscape Architects Inc. have been working with United We Can develop a master plan and Vision for the farm. This first build is part of a larger initiative undertaken by Save Our Living Environment (SOLE).
Some of the many groups involved in this project include:
Building Opportunities with Business
Kristina Welch and the Centre for Sustainability and Social Innovation
Louise of the Recycling Alternative
Toby Barazzuol of Eclipse Awards and SBIA
Potluck Cafe
VEEES
Green Inner-city Cluster members
Participants and organizers of last week's Ideas Jam

Next week's build will see the first phase of the farm become a reality. By Spring of 2010, the hope is to have a fully functioning urban farm along Hastings Street.
Come out to help bring this new development into being Saturday October 31st. We will be kicking off the farm raising at 10am. Light refreshments will be provided. Participants will build planters, compost bins, a community mural and a garden shed. Volunteer spots may be limited. For more information and pre-registration please email us at projectsinplace@gmail.com


DIVE BARS HOST HIP SCENE
As the downtown club scene loses live music venues,
Skid Road bars take on a hipper edge

Doug Ward
Vancouver Sun
Saturday, December 15, 2007

It's near midnight Tuesday and waves of cute college-age hipsters are strolling down East Hastings and heading into the pub at the Astoria Hotel, where serial killer Robert (Willie) Pickton was not too long ago one of the regulars.
They walk in smiling, exchange hugs with earlier arrivals, remove their thrift-store jackets and grab beers. Tonight the Astoria, one of the most notorious pubs in the Downtown Eastside, is a clubhouse for indie kids.
"Being an east-side bar, the Astoria has had its share of the darker elements," says Randy (Yogi) Gregoras, the doorman charged with weeding out undesirables.
"But people don't have to worry about their safety the way they used to. It's a younger crowd now that we're trying to market to."
Justin Turkington, 22, is standing on a podium in the back of the room, setting up his computer to play the MP3 files for tonight's tunes. Turkington and two other friends are DJs who put on a dance night, called Friendship, every Tuesday at the Astoria.

Monica and Michael take in the colourful surroundings of the new Biltmore Cabaret at Kingsway and 12th Avenue -- booths against red velvet walls. The club in the Howard Johnson Plaza Hotel, formerly the Biltmore Hotel, was the creation of Zak Pashak, 27. Vancouver's lack of venues pushes people to 'whatever place will open its doors,' he says.

Minton Stille, who runs the bar and books entertainment acts for the revived Astoria Hotel on East Hastings, is excited about changes to the area. He says the Astoria, which traditionally attracted an older crowd, now aims for a younger demographic.
photos : Mark Van Manen, Vancouver Sun

There are a few characters who wouldn't seem out of place in a Charles Bukowski novel -- the guy with his dog at the bar, the friendly first nations couple who are dancing, infamous slumlord and Astoria owner Paul Sahota who is behind the bar ("Please no negative publicity," he tells a reporter) and Bobby Beckman, 57, who sits quietly with his beer.
"This used to be the easterly end of the war zone, which is the war on drugs, which was lost. But you never seen any drugs in here any more," said Beckman.
"The younger people come in later with the band and by then I've usually gone home. But, yea, we've got some good clientele here now."
Turkington never had any doubt that he and his buddies could attract a crowd of other mostly middle-class young adults -- pre-kids, pre-mortgage -- just like them to come down and party on the skids.
After all, single room occupancy hotels housing mostly welfare recipients and east-side warehouses with their cheap drinks and rough-hewn interiors have been key party venues over the past four years for alternative scenesters -- cool counterpoints to the mainstream Granville Street bar scene with its reputation for drunks, drugs, loud hip-hop beats and violence.
"It's kind of trendy to go hang out at the dive bar," said Turkington. "There are a lot of kids -- like privileged kids from the west side -- that I see coming to these places.
"They don't need to. But it's cool. It's hip."
Land values soar
While cheap pitchers of beer add to the appeal of the lumpenproletariat bars, the real economic impetus behind the Downtown Eastside indie scene is the incredible escalation of land values in the city core.
The proliferation of condominium towers in the downtown has driven out large live music venues such as the Starfish Room. Richards on Richards is expected to meet a similar fate soon. In recent months other clubs have gone under: the Marine Club, the Buffalo Club, the Lamplighter, the Gecko Club.
The challenge facing live music promoters is made even tougher by tough liquor licensing requirements -- rules that forced the bohemian Sugar Refinery out of business in 2003.
Music industry veteran Sean McKay of SPM Music says the Skid Road hotels became a "default" option for promoters as music venues began closing.
"There was a time when I would never have considered doing a show at the Picadilly Hotel. But as we starting losing places, it suddenly became one of the best places to put on a show," says McKay.
"We've ended up with these hotels like the Astoria that are becoming regular places."
Another new element in the scene is the Internet. The east-side dance nights are easy and cheap to promote because of the social networking capacity provided by Facebook and My Space. People learn from their "friends" about events and tell their other "friends." They see who will be there and who they might talk to.
DJ Turkington lives in a cheap (for Vancouver) apartment in nearby Strathcona. He's done two years of liberal arts courses at Douglas College. He serves food at a restaurant and sells clothes at American Apparel. And he gets a cut of the Astoria bar take when he puts on his Friendship party on Tuesdays.
Turkington said the gentrification of the Skid Road bar scene has been going on for a number of years, starting with pubs like the Cambie Hotel, the Cobalt Hotel, the Patricia Hotel, the Columbia Hotel, Funky Winker Beans, the Brickyard and the Royal Unicorn in Chinatown -- even the Balmoral Hotel, another Pickton hangout where the bands playing Friday night included Elton Bong and Broken Condom Babies.
"There's lots of kids who are more into the arts scene and living in Strathcona close to the Downtown Eastside because of its cheap rent, right," said Turkington. "Basically, it's like gentrification in any city."
Turkington compares the Downtown Eastside dance party scene to the the gentrification that turned the gritty Brooklyn neighbourhood of Williamsburg into a trendy place for eating, drinking and shopping.
Pub open for business
Astoria bartender/events coordinator Milton Stille said that events such as Turkington's Friendship have helped remind people that the pub is open for business again. (The Astoria pub was closed down for three months in 2006 and a year before that it was targeted by the police in a string operation that uncovered rampant drug use and fencing of stolen goods. Astoria owner Sahota recently endured more bad press when his failure to repair a leaky roof on a Pandora Street apartment building he owns was blamed for forcing 50 low-income people out of their east Vancouver apartments.)
Stille, 25, said the Astoria has traditionally attracted an older crowd. "Now that we're aiming for a younger demographic, it's definitely going through a bit of a change and that's quite an understatement."
Anna Zarzynfki, 22, comes regularly to this dance night at the Astoria. She says it's the low incomes of most of her young friends that is shaping the Hastings Street hipster scene.
"We're like the Mods of the year 2007," said Zarzynfki. "The reason we go to these dive bars isn't because it's a fad. It's because it's all we can afford. Economics always influences subcultures."
One of the minor celebrities in this subculture is Jason Sulyma, aka My!Gay!Husband!, the godfather of the skids DJs. Wearing his trademark baller cap slightly askew, Sulyma stands outside the Astoria Tuesday and recalls how he and a few others promoted and staged the music nights that drew kids to Skid Road.
"It's more of community scene here as opposed to people coming to a party strip like Granville. Many of these kids here have no money to spend. But the more creative bars took on our clientele because these kids were setting the tone for style and taste in the future."
Sulyma says that contrary to the Downtown Eastside's image, there is little risk of violence for the middle-class kids coming to the mean streets for good times.
His theory is that junkies don't need to be violent in Vancouver because drugs are cheap and plentiful -- and users aren't hassled by the police.
Sulyma, who is known for his skill with mashups (a remix or combination of different tracks with vocals from one laid over the other) took his My!Gay!Husband! show to the influential South By Southwest music festival this year in Austin, Tex.
The audience Sulyma has nurtured on the east side has become so strong that bookers at Richards On Richards recruited him for their Friday nights.
Coolness of bars ebbs and flows
The coolness of the various skid road bars ebbs and flows, according to Sulyma. When a bar creates enough of a buzz on Facebook or in the media that it begins to attract poseurs or, worse, jocks -- the bar's cool factor becomes diluted and the pioneers or early adapters move on.
When a formerly hip bar loses its indie cred and "turns into a horrible bar and burns out then we leave and go somewhere else," said Sulyma.
Jordie Yow, a Langara student and writer at Discorder Magazine, says "there are definitely some people who are slumming to come to these things, but at the same time there is no place else for us to go.
"Like I'm not someone who lives in the Downtown Eastside but the music I love lives in the Downtown Eastside because there is nowhere else for it to be."
Lindsay Poaps, a 28-year-old alternative music fan, similarly laments the squeeze put on live music venues. "I think the densification of the downtown is extremely important but that it came at the expense of live music and culture is a bit of a tragedy."
But Poaps is hopeful about the growth of venues in east Vancouver. On Monday night, she attended the opening of the new Biltmore Cabaret at Kingsway and 12th Avenue.
The Buttless Chaps and the Choir Practice -- two local Mint Records bands that are local indie favourites -- played to about 100 people who enjoyed free alcohol and food and checked out the decor, which the cabaret's new owners bill as a mix of New Orleans Gothic bordello with 1940s Shanghai show lounge.
Sitting in a booth against a decadent red velvet wall, Poaps recalls the Biltmore's dodgy past.
"Nobody really ever came to the Biltmore. Or if they came it was because it was ironic to go to a divy place and drink Molson Canadian and see some funny karaoke.
"It wasn't a venue that anyone took seriously. Until now."
The new club at the Howard Johnson Plaza Hotel (formerly the Biltmore Hotel) is the creation of Zak Pashak, 27, who also runs a club and festival promoting alternative bands in Calgary. He knew about the strong demand for new live music venues in Vancouver and believes the Biltmore's 362-person capacity will fill some of that need.
"There's a lack of venues that is pushing people in Vancouver to find whatever they can -- whatever place will open its doors," says Pashak.
He says the club's music will be similar to the programming at most college radio stations -- no top-40, no hip hop.
Some of the thinking behind the Biltmore revamp can be gleaned from Pashak's blog, where he wrote about why he started a similar alternative venue in Calgary.
"When I was growing up I assumed that other cities didn't have the same 'frat boy to stockbroker' clubs that so grossly manipulate their clientele into thinking they are having a good time.
"Now I know better. Montreal, Halifax and Vancouver all have the same s----y places that we do."
The Biltmore's new management team is aware that the Kingsway pub has had a sketchy reputation. "It's been through some pretty seedy times," says bar manager Scott Musgrave. "I know a few girls who got their teeth knocked out in this place over the years."
To counter this uncool image, the new Biltmore Cabaret even plans to get its bulky doormen to wear black "so they can just blend in and don't look like the doormen who everybody hates," says Musgrave. And the new cabaret plans to publish a fanzine called Filth.
Not unlike the young DJs who put on events on Hastings Street, the people behind the Biltmore are trying to market a vibe distinct from the party-hearty one on Granville Street.
"People are tired of going downtown where every club is the same," says Musgrave.
"It's just the same meatheads fighting the same guys and the same chicks that look like hookers."
Or as Biltmore marketing manager Michael Venus put it: "I think a lot of people, myself included, are over downtown just because of the thugs-are-us mentality. There's an alternative needed."
The Biltmore's management believes its location is perfect -- in the middle of the alternative youth scenes around Main Street and Commercial Drive.
"These are kids who are more intellectual in their musical tastes and are less inclined to mix downtown with the thugs from the suburbs," says Biltmore manager Richard Roloff, aka DJ Dickey Doo, on the phone from the Canary Islands, where he is working as a DJ.
The new-school Biltmore is aimed at Emily Carr School of Art types, says Roloff. "These are people who don't want to hear Beyonce."
dward@png.canwest.com