Garden helps community pride grow
Downtown Eastside plot sprouts spinach, radishes and strawberries

Cheryl Rossi
Vancouver Courier
Friday, May 30, 2008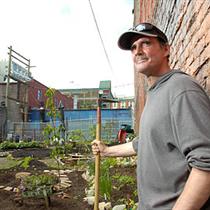 Washington Hotel resident Robbie P. helps maintain the area around Hastings Folk Garden.
Photo-Dan Toulgoet

Between scabbed walls and barbed wire an unexpected sight emerges on East Hastings: a garden with curving pathways where plants sprout from dark soil.
Concord Pacific owns the land and the PHS Community Services Society, formerly the Portland Hotel Society, acts as its custodian. The society has developed the garden and dubbed it the Hastings Folk Garden.
Phelippe Clemend, who works at the Columbia Hotel, stopped at the open gate Wednesday afternoon to marvel at the fledgling Eden.
"It's gorgeous. It's perfect. It's great to see life here," he said of the green patches he noticed only a few nights before.
Another man paused on the sidewalk, pointed and said: "There's rhubarb over there!"
Robbie Panteluk, who lives in the PHS-run Washington Hotel, cleans the sidewalk outside the garden, waters the hanging baskets PHS installed along this stretch of Hastings and helps out however he can.
"Everybody that has a vision can come down and do it, no problem," he said. "A lot of people just look at it and say, 'Right on!'"
The PHS Community Services Society brings work groups to the garden one Saturday a month, which is about to increase to two. The Vancouver chapter of the Christian network Servants to Asia's Urban Poor tend to the garden on Mondays and a group from the Salvation Army works on Wednesdays. Sometimes they bring children along.
"What you don't usually see down here is children," said Bryan Alleyne, who has lived within four blocks of the site for 16 years and works for the PHS at Insite, the supervised injection site. "It's so nice to see kids on Hastings next to an injection site doing gardening, not being harmed. People on the street really respect them. They don't do all the things that they usually do, they don't do it in front of children. That's the number one rule. So it's really, really nice to see."
When Alleyne's wandered by, those tending the garden have invited the former drug addict who speaks with a raspy voice to have a seat and enjoy the sun.
Spinach, radishes, kale, leeks, carrots, beans, lettuces, potatoes, strawberries, raspberries and fruit trees comprise the lot's first crop. Shandelle Billows, a project manager with PHS, says the bounty will be distributed as part of its Downtown Eastside Lunch Program.
Residents of Onsite, the detox centre above Insite that PHS runs, have worked in the garden Saturdays and Billows said PHS plans to get them working there on a weekly basis.
"They just say how good it feels to work their body that way," she said.
The site previously served as a campsite and garbage dump, and Concord Pacific asked PHS to take care of it.
Her PHS colleague Peter LaGrand was inspired to create a community garden like the one developed by the Christian non-profit Jacob's Well at East Pender and Jackson.
"Lots of folks never leave the neighbourhood to go towards any park or greenspace and so why don't we bring that to them," Billows said of LaGrand's idea.
On Wednesday, one passerby who was disgruntled about losing his job at a PHS hotel complained about the garden being behind a fence.
The Vancouver Community Agriculture Network, a project of the Environmental Youth Alliance, quickly came on as a sponsor to the garden, providing soil, seeds, wheelbarrows and know-how.
Billows doesn't know how long they'll be able to keep the garden growing. There's no formal agreement with Concord Pacific.
"If there was a developer that wanted to put housing in here, that would be phenomenal," she said. "I just think, also, greenspace is so important to people's mental health to their personal well-being. Living in this neighbourhood, there isn't a lot of greenspace. It's a hard place to be."
Billows added PHS has formed a Hastings Folk Garden Society, under which it hopes to broaden its beautification and street cleaning work, if it can get funding.